Exploring The Real Lies Behind The GlobalWebIndex And Lightspeed Research
martin

星期二, 10月 16, 2012 发布
Forget Twitter and Facebook – exploring the real lies behind the GlobalWebIndex and Lightspeed Research numbers
You may have noticed we made a lot of noise about a recent GlobalWebIndex study which claimed, among other things, that despite heavy online censorship, Chinese netizens are actually very active on blocked foreign social media web sites including Facebook, Twitter and Google+.
In response to our protests and the protests of journalists who could see that the numbers did not add up, GlobalWebIndex published a blog post on their web site and shared some of the information from the report. They also shared their rationale as to why, despite these web sites being blocked, there was so much activity from China:
However, it only takes a little bit of desk research to discover that what is called the "Great Firewall" is actually much more porous than the Chinese government would like to admit. On closer inspection, Chinese users are using VPNs (Virtual Private Networks), VCN (Virtual Cloud Networks) or connections at work that may be routed internationally. Crucially, this means that users won't be picked up in analytics and will not register as being in a Chinese location at all!
For us this was probably the most upsetting claim. We agree that Chinese netizens have access to VPNs at home or through their places of work and that certainly there are Chinese who are active on these social media platforms. But we hardly think it goes to the extent that GlobalWebIndex and their survey partner Lightspeed Research claim.
In reality, "it takes a little bit of desk research to discover" that China has created a sophisticated online censorship mechanism. Chinese netizens are prevented from accessing foreign web sites that are deemed to contain sensitive information and are also prevented from posting and searching for "sensitive" information on domestic social media web sites. Given China's rise in influence around the world and the huge number of Chinese who have access to the internet, we felt that it was necessary that somebody bring transparency to online censorship in China. It is our hope those living in and beyond China will come to recognize that the internet is not free and open in China. It is highly controlled and manipulated and this lack of freedom of expression and freedom to find information, may one day lead to conflicts based on misunderstandings. We've seen recently how easy it is for authorities in China to encourage nationalistic fervor (see the Diaoyu/Senkaku islands protests) and how easy it is to turn this off.
We want to bring China's internet censorship campaign to the awareness of a global audience in the hope that they can help bring about a change in how China treats access to information. The GlobalWebIndex and Lightspeed Research report has successfully led many people to believe that the Great Firewall of China is weak and that Chinese can circumvent the firewall whenever they please.
VPNs and other forms of circumvention are beyond the means (technical or monetary) of the vast majority of netizens anywhere in the world. While there are free VPN solutions, in order to use them, most people would need a higher than average understanding of their computers. If they don't have this knowledge, they can purchase access to a reliable VPN service with a user-friendly interface for around USD 80/year – not an insignificant amount in this country – but also a manageable number for many urban white collar workers.
If it was true that the internet was free and open to the numbers of Chinese netizens that GlobalWebIndex and Lightspeed Research claim, then we would likely see a lot of different things on the internet, regardless of whether or not you could read Chinese. Charlie Custer has done a great job of exploring some of this issues but the one issue we'd point out is that we'd see huge levels of Chinese language activity, especially around recent issues like the Diaoyu/Senkaku island dispute. The evidence is just not there to show this.
Social network usage in China, according to GlobalWebIndex.
However, the real smoking gun with regards to the reliability of the GlobalWebIndex and Lightspeed Research report comes when we look at a web site that is not blocked in China – LinkedIn.
GlobalWebIndex and Lightspeed Research claim that LinkedIn has 16.23 million monthly active users in China, regardless of whether or not they are using a VPN or other circumvention tool to access a site that has only ever been blocked for one 24 hour period in China in 2011 and for a site that is largely mainly used by current job seekers and sales people (LinkedIn would refute this claim).
Regardless of whatever intent people have for using LinkedIn, in China, GlobalWebIndex and Lightspeed Research claim that each month more than 16 million Chinese are active on this web site. Who knows what the number would be if inactive users were included (i.e. those who are not in sales nor currently looking for a job).
For argument's sake, let's assume that all 16.23 million LinkedIn users in China are active users. This number is quite different from numbers that LinkedIn and the company's competitors have publicly released.
LinkedIn itself claims 175 million members worldwide. This would mean that at least 9% of all accounts on LinkedIn are originating from China. Linkedin claim that 108 million members are from outside of the US and of those members, 15 million can be found in India and 10 million in the UK. Numerous sources (see below) have put the number of registered users of LinkedIn in China at between 1-2 million people. It is no secret that the company is exploring establishing operations in China and has been for some time. They believe that they need an active China audience in order for the site to be truly global and to show shareholders that there is continued growth of the platform. At 16.23 million users, the Chinese LinkedIn population would already be larger than India's where knowledge of English is widespread. LinkedIn itself, on its own backend advertising platform, show that there are currently 2.6 million users in China and 17 million in India (see below). Another 1 million users can be found in Taiwan and Hong Kong which would bring the current Greater China LinkedIn population to 3.6 million users.
GlobalWebIndex refuted similar statistics we gathered from Facebook's backend advertising platform which shows less than 1 million users in China as opposed to the 63 million monthly active users that the Lightspeed Research produced. They claimed that because Chinese netizens were using VPNs to access Facebook, their location would likely show up outside of China. More precisely, more than 62 million Chinese were likely circumventing the Great Firewall.
The LinkedIn numbers are more difficult to explain away. Presumably, as more people use LinkedIn as their de facto online resume, you are unlikely to lie on your resume about where you are located in the world. Many overseas Chinese students might be using LinkedIn and have changed their location to be their place of study. Alexa shows that 0.9% of visitors to LinkedIn are from China. Yes, Chinese netizens presumably could be using a VPN to access LinkedIn even though it is not necessary for them to do so.
There is one other possible explanation and for want of spending the night spinning dancing around the outside of the ring, that other possible explanation is that the GlobalWebIndex and Lightspeed Research are completely falsified. We can't figure it out. Did they just increase the numbers by a factor of X? Did they poll people in Hong Kong thinking that this would be an adequate sample size? Did they poll only Chinese who were using VPNs? Did they just randomly decide what the numbers should be? What would they have to gain? Some free publicity for one. Perhaps the sales team needed something exciting to sell to foreign companies about the Chinese internet although I pity any company using this data to make business decisions. Whatever the case may be, we'd love to hear an explanation of this issue. What we'd like more is a public apology letting us know that you just got it completely wrong. And that the likes of eMarketer, The Huffington Post, Financial Times, Bloomberg and a bevy of other lazy journalists did, too. Your public denial, combined with the power of the press, might help make the world aware again that their netizen brethren in China are still hidden behind this Great Firewall.
We're sorry we can't put our real names to this story. We are operating in China and we do fear that we'll get discovered before we are able to bring transparency to online censorship in this country, but if you remain adamant about your numbers and you want to have a word with us, please do reach out to greatfire at greatfire dot org and we'd be happy to learn more about your research in an email exchange or on a Skype call.
External Sources On Number Of LinkedIn Users In China
From LinkedIn Itself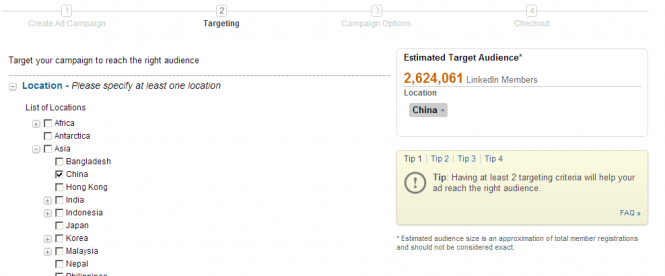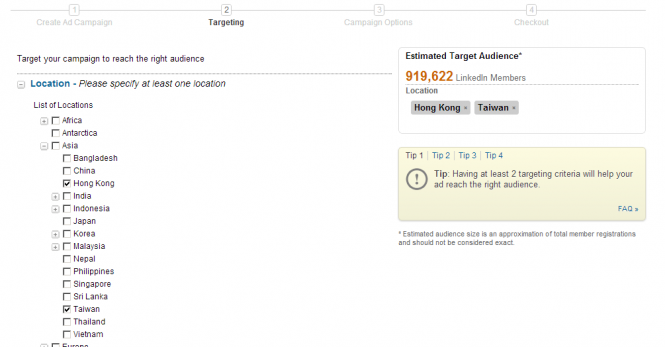 更多博客文章
订阅 email
星期一, 8月 03, 2020
星期五, 7月 24, 2020
星期一, 6月 10, 2019
星期四, 6月 06, 2019
星期四, 11月 30, 2017