Gmail now 45 times slower than QQ, 8 times slower than Yahoo
martin

星期二, 3月 22, 2011 发布
Many people in China are experiencing problems accessing their Gmail these days. The website hasn't (yet) been blocked outright, in the sense that Facebook.com, Twitter.com etc are blocked. Instead, the Great Firewall and the masters behind it seem to try to make Gmail slow and partially blocked, as our monitoring confirms. Average download speed of Gmail in China is now 45 times slower than QQ as shown in this diagram (for more comparisons, see our new Guanxi index).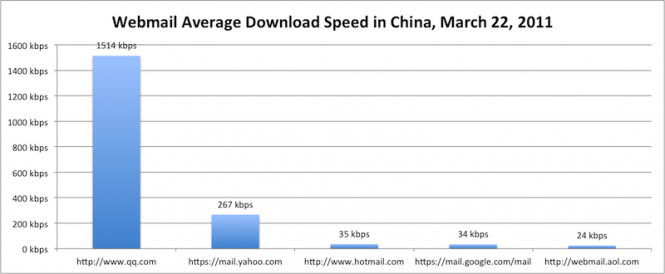 Some people are wondering whether the problems are caused by Google or the Great Firewall. Google has denied that the problem lies with their service, adding that "this is a government blockage carefully designed to look like the problem is with Gmail". Though the Chinese government has protested its innoncence, our automatic monitoring of Gmail confirms Google's view. All our tests are verified by also accessing the website from a server outside China, and Gmail has not had any problems when accessed elsewhere. In China though, it's lately been partially blocked and usually very slow.
Thinking of switching to another email provider?
Yahoo seems to be fairing much better than their other foreign competitors at this point. Perhaps it's related to their prior collaboration with Chinese authorities over jailing dissidents. If this is not an issue to you, switching to Yahoo might be an option. Whatever option you go for, make sure that the URL you're starts with "https://", and not "http://". A single "s" makes all the difference to the Great Firewall. HTTPS, or encrypted connections, mean that the Firewall cannot know what you are reading and writing - if there's no "s" everything is open to inspection by big brother.
Switching email providers is a hassle for many reasons though - you lose your old messages, your contacts and you have to inform your friends of your new address. If you want to continue to use Gmail you might want to consider a VPN, which will let you completely bypass the Great Firewall.
What about VPN's?
Some VPN services have also been targeted recently and been disrupted on and off. You can check out our Tools section for an overview. Some are completely blocked whereas others are slow or fully available. Please note that the statistics for the VPN services on this page only refer to access to their main website - and may not be an accurate indicator of the actual VPN service.
更多博客文章
订阅 email
星期一, 8月 03, 2020
星期五, 7月 24, 2020
星期一, 6月 10, 2019
星期四, 6月 06, 2019
星期四, 11月 30, 2017