Uncensored Google search in China, without a VPN or proxy
martin

星期四, 4月 28, 2011 发布
At the time of writing, we're monitoring 59 Google searches that are all blocked in China. This means that when in China, unless you're on a VPN or proxy and you try to search for any of these words in Google, you'll be presented with a blank page. However, there's currently a glitch in the firewall which can be used to get complete uncensored Google search in China on a standard internet connection.
It's done using Google SSL. Google SSL is hosted on an encrypted server meaning that anything that is sent or received is out of reach of the Great Firewall. This is a good reason for the Chinese authorities to block the service altogether. They have of course, but there's a loophole. Here's how to do it:
If you're in China, when you Google you're redirected to www.google.com.hk by default. Typing in www.google.com/ncr makes sure that you get to the international website and not the Hong Kong version.
2. Type in google encrypted and click "I'm Feeling Lucky"
This should take you to https://encrypted.google.com. Alternatively, you can try typing in that URL manually: https://encrypted.google.com.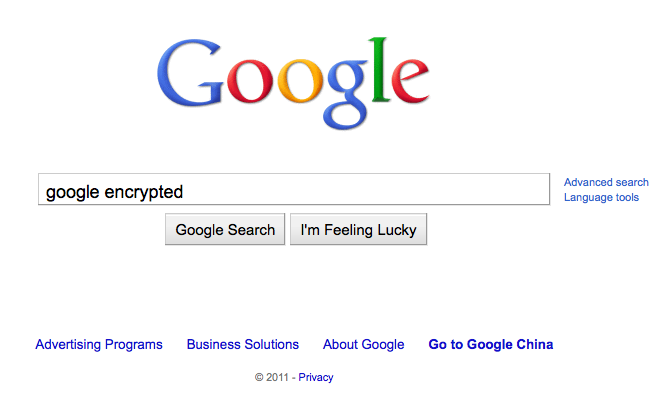 3. Search for anything, including searches blocked by the Great Firewall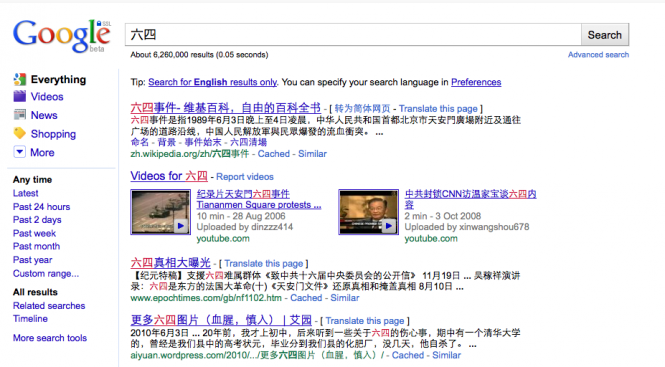 Searching using Google SSL seems to be slow and unreliable in China, but it does work, at least while this is written. It may be just a question of time before the glitch is fixed. Meanwhile, we hope you find it useful. Don't know what to search for? Check out our list of blocked searches.
更多博客文章
订阅 email
星期四, 11月 30, 2017
星期二, 5月 23, 2017
星期一, 12月 12, 2016
星期四, 11月 24, 2016
星期二, 7月 05, 2016